Permalinks to this entry: individual page or in monthly context. For more material from my journal, visit my home page or the archive.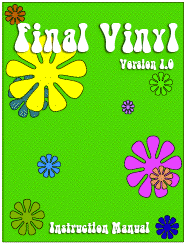 Griffin Technology's Final Vinyl has the best-looking manual I've seen in a long time. (That's a picture of the cover—the rest is in the same style.)
It's a pity it doesn't come in a printed version. Or maybe it does, if you buy Griffin's audio hardware, which is also required to use the program. It almost makes me want to buy one of their devices just to find out.
So far, none of my clients has requested—nor have I suggested—making a manual that's anything like it. Maybe people would actually read them if we did.
Pretty far out, man.