Permalinks to this entry: individual page or in monthly context. For more material from my journal, visit my home page or the archive.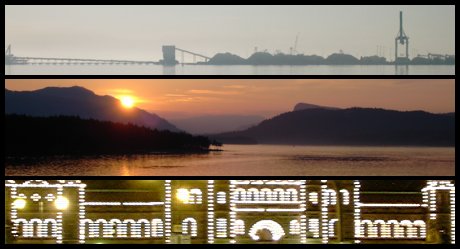 A trip from Vancouver to Victoria takes you from the Tsawwassen ferry terminal (top, with its view of the Roberts Bank coal and container port) to Georgia Straight (middle, with its view of the Gulf Islands), to downtown Victoria (bottom, with its view of the night-lit buildings of the British Columbia Legislature).
By the way, I can highly recommend the Hotel Grand Pacific on Victoria's Inner Harbour—for many reasons, including its free in-room high-speed Internet access. It belongs on my list of recommended hotels in the region.