Permalinks to this entry: individual page or in monthly context. For more material from my journal, visit my home page or the archive.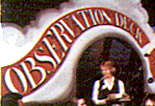 In keeping with yesterday's retro-photo theme, today we'll go even further back, to 1977, the year of Star Wars and Tenerife.
If you were a kid (or an adult who liked planes) in Vancouver in the late '70s, you might remember Air Affair, a restaurant on Pender Street downtown. Even if you don't, you can learn about it now.
Thanks to my parents for dredging up these memories from the archives in their basement.