Permalinks to this entry: individual page or in monthly context. For more material from my journal, visit my home page or the archive.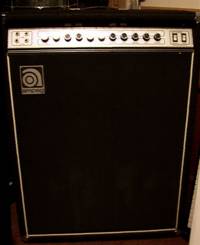 I'm asking $350 Canadian for a very large Ampeg G-410 bass/guitar combo amplifier. I've posted a page with details and photos.
This model was originally built around 1974 as a giant combo amp for guitar, with four 10-inch speakers. Sometime in the past 30 years, though, someone pulled out those little speakers in my amp and replaced them with a single large Radio Shack Realistic speaker, converting the rig into a bass amplifier.
You'd best be in Greater Vancouver somewhere, because shipping this monster would be ridiculous.