Permalinks to this entry: individual page or in monthly context. For more material from my journal, visit my home page or the archive.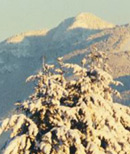 After posting "Gronk Patrol" a couple of days ago, I decided to finish an another, older track I'd had sitting around for awhile.
So here is another free song: "Fresh Snow in the Valley." It features high-gain feedback lead guitar, an echoey riff, techno bass and drum loops, random electronic noises, and funky breakdowns.
The tune has a lot of layers, so you might want to listen to it with some headphones that have good bass response. GarageBand, which I used to record it, doesn't offer a lot in the way of real-time stereo panning control, but I managed to fake some, so you'll get the full trippy effect with some good cans on.
Incidentally, if you, like me, are the sort who wants to share music you create with others, download CC Publisher and CC Lookup from Creative Commons. They're applications that let you embed legal sharing licenses in your media files and automatically upload them for free hosting, as well as examine files you download for license information.