Permalinks to this entry: individual page or in monthly context. For more material from my journal, visit my home page or the archive.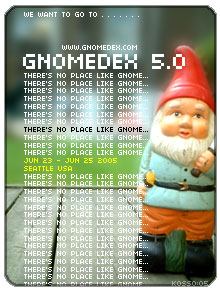 Back in February I was on a panel at the Northern Voice conference with Chris Pirillo. He's the founder of the Gnomedex conference, which has its fifth annual fête in Seattle from June 23–25.
At the behest of Bill, my employer and colleague, I'll be attending Gnomedex this year as Navarik's representative. I'm not speaking this time, just going and hanging out with others who're doing the same, including Dan Gillmor and his brother Steve, Julie Leung, Vancouver's own photo-guy Kris Krug, the Northern Voice Roland Tanglao – Darren Barefoot – Boris Mann troika (of course), Robert Scoble, and Adam Curry, with whom I share a trivial yet bizarre historical connection.
(I note that Gnomedex remains rather male-heavy, in contrast to Northern Voice's remarkable gender parity, which was unusual for a tech conference.)
One reason I'm going for Navarik is that we build commercial software that relies heavily on open-source infrastructure, and also works extensively with established internet data storage and exchange standards like XML, as well as feeds, blogs, and so on. Our customers include some of the world's biggest companies (you might have heard of some of them, like Shell). We may have some of the largest and most complex web-based PostgreSQL database applications anywhere, used by thousands of people on every continent but Antarctica. Yet Navarik remains very much under the radar in the technology community, because we haven't been extensively plugged into it.
I doubt my showing up and passing out business cards will change that very much, but it will be good to get a sense of what the "influencers, entrepreneurs, and tech enthusiasts" are up to. I'll blog the event, probably at Navarik's Windward blog as well as here. Gnomedex's topic this year is apparently "the grassroots of RSS, blogging, podcasting, BitTorrent, and media." I call it a good excuse for geeky types to get together and kvetch.
Plus my wife and kids get to come to Seattle with me, which is a nice treat. We've been to Seattle enough times, and we're considering returning to the Mayflower Park Hotel, but the Warwick and Sheraton look good too. Any other recommendations within walking distance of the waterfront Bell Harbor Conference Center?