Permalinks to this entry: individual page or in monthly context. For more material from my journal, visit my home page or the archive.
Rockabilly, like some other musical styles (barbershop, big band, jump blues, and disco come to mind), is an anachronism. It arose 50 years ago, when thousands of musicians tried to sound like Elvis Presley, with the same hiccupy singing, train-chugging rhythms, and spanky, slapback-echo guitar that he, Bill Black, and Scotty Moore conjured up in Sun Studios in 1954. So any self-respecting neo-rockabilly band needs a hollowbody or semi-hollowbody guitar (preferably a Gretsch), a stand-up bass, crisp collared shirts, and pompadour hairstyles.
Still, rockabilly does rock. Paul Simonon of the Clash and his bandmates took it in some interesting directions with Havana 3AM as late as 1991.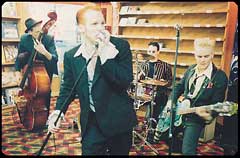 Around the same time, when I was trying to become a famous musician, contemporaries of mine in the Vancouver music scene were the Rattled Roosters, and while no one would have called them wildly original, their music—and especially their live performances—were a ton of fun. I've held a soft spot for rockabilly ever since.
Today I stumbled into the Rockabilly Guitar Page, which does a whole lot more than just talk about the style: guitarist Vince Gordon of the oddly-named, Denmark-based band The Jime describes in great detail what kind of gear you need to get a good rockabilly guitar sound, and then offers his $20 USD e-book How to Play Rockabilly Guitar and Get Good Fast!. From the sounds of the free download "Anyhow," he knows his Gene Vincents, if you get my drift.
So if you want to have a crack at rockabilly, you can start with a few free lyrics and chords from the band's albums. Don't forget your pompadour.