Permalinks to this entry: individual page or in monthly context. For more material from my journal, visit my home page or the archive.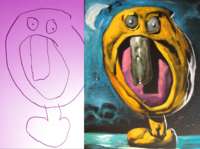 Noel just reminded me about the Monster Engine, a project where an artist takes young kids' sketches of creatures of various kinds and turns them into fully rendered paintings.
The results are extremely cool.
I wish someone could have done similar stuff to some of my drawings when I was seven.