Permalinks to this entry: individual page or in monthly context. For more material from my journal, visit my home page or the archive.
UPDATE: These instructions have now been translated into Chinese (but not by me!).
If you want to keep certain files on your Mac from prying eyes (have a company laptop that might get stolen?), it's not too hard to create an encrypted disk image that you can open with a password at login, and which acts like a regular folder once you've done that. I did that today at my work at Navarik. I've posted a slideshow and photoset at Flickr about the process, in order, with commentary: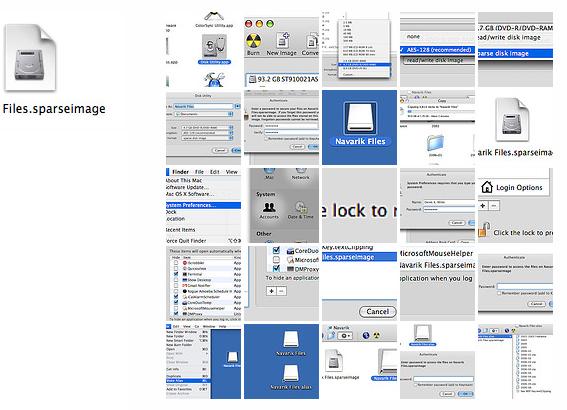 Once you've set this up, whenever you log out, or if you eject the virtual disk, no one can get at the data in it without the password, because without your password, it is mathematically scrambled gibberish—even if someone steals your laptop and takes the hard disk out. So it is important to choose a good password that they can't guess, but that you won't forget either.
P.S. This is a better method than using Apple's FileVault, which encrypts your whole Home folder (and that could be huge), including files that don't need to be encrypted (downloaded music? web cache files? preferences?) and could slow down your machine.