<< Penmachine.com home | < EAC pages
The Basics of Backing Up Your Computer Data
This was my second of two presentations to the Editors' Association of Canada in 2003. The other was about helping editors build websites, and took place in January.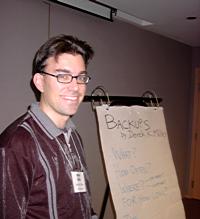 Editors' Association of Canada
19 Nov 2003 B.C. Branch Meeting
In November 2003, I talked about computer backups to about 60 people at the monthly meeting of the Editors' Association of Canada B.C. Branch. This page includes a summary, audio of my talk, and a bunch of links. (Thanks to Michael Laycock for taking the photos.)
Backup? What backup?
You can't even touch the most most valuable part of your computer: all those megabytes of fragile, irreplaceable digital information stored inside. Your documents, client information, research notes, files, photos, music, bookmarks, and e-mail.
So imagine you come home one day and your computer has been stolen. There's an electrical storm that damages it. An over-enthusiastic relative who "knows what he's doing" accidentally erases a whole bunch of your files. You drop your laptop while sprinting to catch a bus. Or your hard disk just wears out and dies after years of yeoman service.
Now what? If you have a backup copy (or two or three), you'll be back on your editing feet in short order. But most people—like you?— don't have a backup, and they'll be in deep trouble.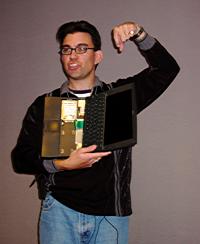 The seven essential questions of backup
What should I back up?
How often should I back up?
What should I use to back up?
Where should I put my backups?
How long should I keep my backups?
Do my backups work?
Are my backups secure?
Even if you don't answer all of the questions, I hope thinking about them encourages you to make some copies of your essential files, because the originals may be impossible to replace if anything drastic (or even mundane) happens.
Audio transcripts
Here is the audio of my presentation:
Both are MP3 audio files, so your computer needs to be able to play MP3s. Try QuickTime (Windows and Mac—free!), iTunes (Mac and Windows—yes, free!), or WinAmp (Windows—oy, free!).
If you want to save the files to your computer before playing them, simply right-click (Windows) or click and hold (Mac) on the file you want, then choose Save or Download (depending on your Web browser) to download it to your computer's hard disk. Double-click the downloaded file to play it.
More information about backups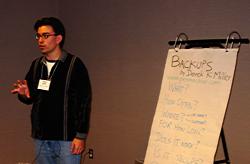 I originally posted these links on my home page journal on 20 November 2003.
<< Penmachine.com home | < EAC pages