The Geekiest Photo of Derek Ever Taken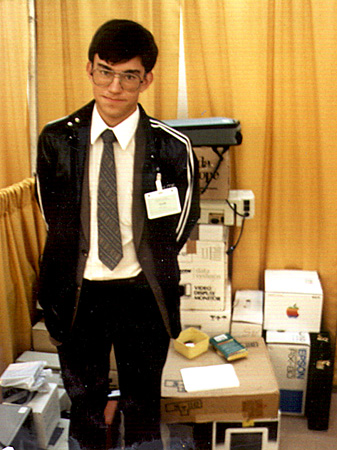 4 September 2003: This is, officially, the Geekiest Photo of Me Ever Taken, just dredged up from a cardboard box in the basement. It's from a booth I staffed for the Apple Alliance computer club at the Pacific Coast Computer Faire. It was 1985.
Please observe:
The big globby haircut.


The huge, monstrous, massive metal-framed glasses (in my defense, it was the mid-'80s).


The dress shirt with oversize collar.


The grey, fairly slim silk-and-mohair tie (from France, ooh-la-la), tied too short.


The black polyester pants, sans belt.


The brown fake ultrasuede jacket, topped with a nylon windbreaker.


The Computer Faire name badge.


The stack of Apple IIs, printers, monitors, and other computer flotsam in the background.


The chipmunk cheeks from my orthodontic appliance!


I make no excuses. I was 16, but there were far cooler ways to be 16, even in 1985. My glasses are a little better now.
A few months ago, my friend Tara had a "worst photo" party, where you were supposed to bring the worst photo you could find of yourself (that wasn't supposed to be bad). I couldn't attend, but this one is what I would have brought.
UPDATE: In December 2003, my bandmate Adam had some fun with Photoshop and this image, and visualized what I might have looked like in a funkier alternate universe.
UPDATED UPDATE (March 2008): This picture is now part of the Flickr group Your Geekiest Photos, and this page is the #2 result for "most geeky photo" on Google. Yow.