Martin Sikes (1968-2007)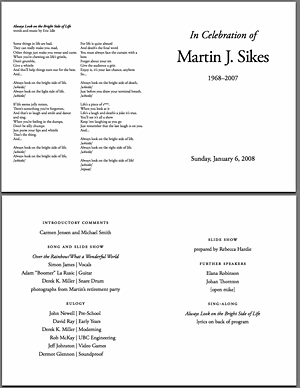 Martin Sikes was a Canadian engineer, software and hardware developer, DJ, dance party organizer, and enthusiast about travel, the outdoors, and trains.
He grew up in North and West Vancouver, British Columbia, attended West Vancouver Secondary School, and studied at the University of British Columbia, where he earned a degree in Electrical Engineering. He spent much of his career in the video game industry, working for Radical Entertainment, co-founding Black Box Games, and later selling it to Electronic Arts. Martin was also a key organizer of the Soundproof collective of DJs, promoters, and artists, who hosted numerous parties over a ten-year period.
He died suddenly in his sleep on December 24, 2007, age 39. His daughter, parents, sister, and many relatives, friends, and colleagues celebrated his life two weeks later, on January 6, 2008. I knew Martin for almost 25 years, and he was my friend. Many of his friends like me wondered, despite his success in business and life, whether he would ever grow up and settle down as lots of us have.
Now we know he never will. He lived only half a life, and accomplished amazing things in that time. Imagine what he could have done had he lived the rest. I miss him. We all do.
Blogs, articles, and comments about Martin
Photos of Martin's memorial event
These photos are from Flickr. Some of them (plus a few extras) are also available in an album on Facebook. You can find more like them by looking for Martin's tags on Facebook and Flickr.