« Penmachine home | « Back to the aerial slides
Aerial Photos of the Hope Slide, Hope, B.C.
by Derek K. Miller
Posted 12 August 2004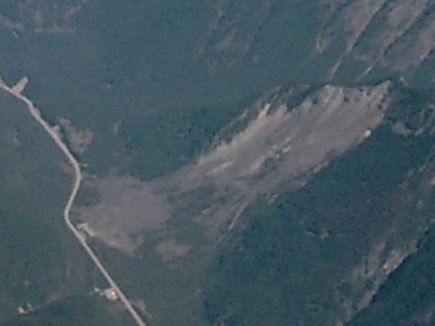 Early in the dark morning of 9 January 1965, a small snowslide forced four people to stop their vehicles a few miles southeast of the town of Hope, B.C. (two hours east of Vancouver), on a stretch of the Hope-Princeton Highway below Johnson Peak. As those people contemplated waiting for clearing crews or turning around, a small earthquake below the mountain triggered the largest landslide ever recorded in Canada. Later named the Hope Slide, it obliterated the mountain's southwestern slope.
The slide buried the victims and their vehicles under a torrent of pulverized rock, mud, and debris 85 metres (nearly 300 feet) thick and 3 kilometres (about 2 miles) wide, which came down the 2000-metre (6000-foot) mountainside, consumed a lake, rode up the other side of the valley, and then rebounded again to slosh up the original slope before settling. Rescue crews only found two of the four dead—the others have remained entombed in the rock, with their cars, for 40 years.
I took these aerial photos on a flight to Saskatoon on a clear Tuesday in August 2004. You can see the barren slide area, and where crews rerouted Highway 3 around the debris field.
NOTE: A smaller version of this photo is available on Flickr.
Hope Slide Stereogram
If you can trick your eyes into viewing stereo images like these two, give them a try:

Some tips:
Sit back from your screen a bit, then cross your eyes so the two images overlap.


You should see the contours of the slide area, since I took the pictures a few seconds apart as my plane flew overhead.


If you have trouble, try this page for advice on viewing stereograms.


It helps if you can centre the images on your screen and make sure you're looking straight ahead at them.
« Penmachine home | « Back to the aerial slides
Page BBEdited on 15-Mar-05 (originally posted on 12-Aug-04)
© 2004 Derek K. Miller. Some rights reserved. You may use content from this site non-commercially if you give me credit, under the terms of my Creative Commons license.