Permalinks to this entry: individual page or in monthly context. For more material from my journal, visit my home page or the archive.
I've just discovered that Blogger lets me post to this journal using the text-only Unix Lynx web browser. Pretty neat.
Here's what it looks like: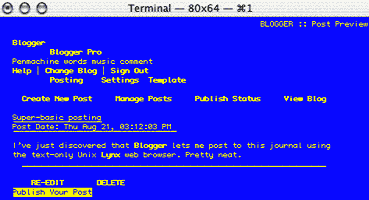 You can download a Mac OS X version of Lynx from OSXGNU, but on my system to make it work I had to run the installer, then go into the Mac OS X Terminal and type:
set path = ($path /usr/local/bin)
which I found on an errata page at the O'Reilly site. After that, typing lynx in the Terminal command line just works.
I promise my next post will not be about computers. Really.