Permalinks to this entry: individual page or in monthly context. For more material from my journal, visit my home page or the archive.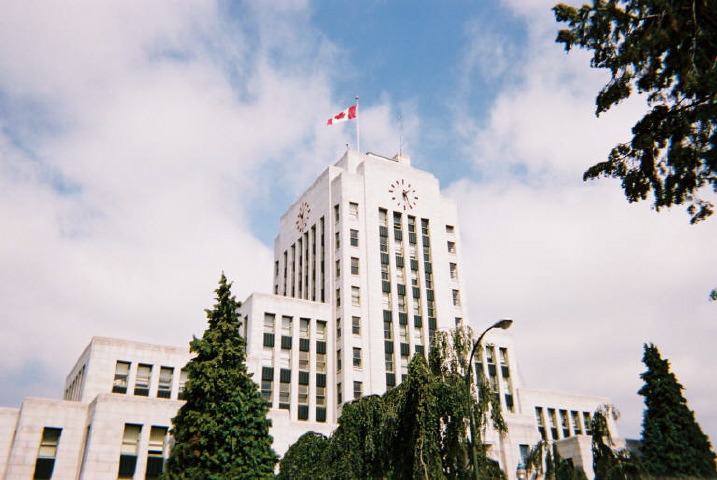 There is, apparently, a Vancouver city bylaw (#2849, section 175B) stating that it is an offence to stop your car "within 6 metres of the nearest edge of the closest sidewalk on an intersecting street." In other words, you can't park less than about 20 feet from a streetcorner that has a sidewalk on it. It's not a bylaw I knew about till this evening, but it's a sensible one in retrospect.
I parked less than six metres from a sidewalked streetcorner this morning, because I was planning to drive from my work to Paul Garay's monthly Podcast Pizza Party in Langley. When I got out to my car around 6:30 p.m., there it was, gone. Towed by Busters Towing.
I don't bedgrudge Busters that. I violated the bylaw, and it's their job to tow my car once it's been ticketed, which they did sometime after 12:10 p.m. There is a Busters lot a 5-minute walk from where I had parked, but that wasn't where my car was—it was at the city's larger impound lot, under the Granville Street Bridge, which took about 25 minutes to reach by transit. I paid the towing charge (about $50) and took the ticket in preparation for paying the $40 I'm supposed to owe the city.
Except Busters broke my car. Even as I drove it off the lot, I discovered that my steering wheel needed to sit about 45 degrees to the left for the car to go straight. I parked (legally), walked over to the towing kiosk, and asked for a damage report form. The clerk was helpful and provided it to me, and I filled it out, took a copy, and went to drive home. But within blocks I knew something was seriously wrong. The wheels were squealing, the steering was wobbly and mushy—the car was not safe to drive.
By this time I was mere blocks from my office again, so I pulled the car into a spot where I know it's legal to park 24 hours a day, across the street from our building. I called my car insurance company (I had already started a claim after I left the Busters lot) to arrange for the car to be towed to an inspection facility, and then to a repair shop, sometime in the next few days. Then I walked to the SkyTrain and made my way home—as I realize I should have done to start with. If I had left my car at home and just gone there before heading to Langely—well, I'd be driving that car home by now.
I expect that my insurance company will pay for the repairs, and bill Busters for them. I also expect that Busters will refund my towing fee, since they didn't do the job the city hired them to do (move my car without breaking it), and which—given their 60-year history of towing cars—everyone should expect them to be able to do competently. I also expect the city to waive the $40 parking fine, since if the city enacts a bylaw saying that my car should be removed if it's parked improperly, it's their responsibility to hire someone capable of moving it without breaking it.
I mean, would the city expect me to pay the fine if their contractor had blown my car up with explosives instead? (It would still be gone from the offending spot.) I hope not. The city, or its agent, is allowed to impound my car if I violate a bylaw, but not to damage it.
As long as my car gets fixed and I end up not having to pay anything for the bad ticketing and towing work, I'll be fine. So there are some phone calls to make tomorrow.