Permalinks to this entry: individual page or in monthly context. For more material from my journal, visit my home page or the archive.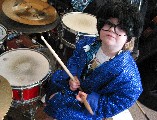 I've been training "D.Q." Neurotic as my replacement drummer in The Neurotics.
I figure we probably have twelve or thirteen years left to go. Fifteen if she's going to be able to play a bar legally.