Permalinks to this entry: individual page or in monthly context. For more material from my journal, visit my home page or the archive.
Join the crowd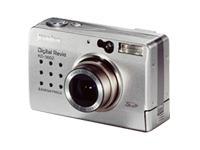 After putting it off for years, for the love of my Nikon SLR, I finally bought a digital camera -- a 3-megapixel Konica Digital Revio, which is a slightly restyled Kyocera Finecam. It is ridiculously small -- it will fit in the palm of my hand -- yet it takes very good photos.
The decision was much easier because of a wealth of information on the Web. If you're looking into a digital camera, try the DC Resource Page (my personal favourite of all the sites), DP Review (the most comprehensive), Megapixel.net (based here in Vancouver, and available in English and French), Steve's Digicams (a bit chatty and not especially informative), Imaging Resource (solid reviews, with some good product shots), and Photo.net (focused on higher-end products, brutally honest, but a bit snobby).
I still bought the camera in a store, and, perhaps surprisingly, the most knowledgeable staff were not at a dedicated camera store, but at London Drugs, which was where I spent my money. They also had by far the best price -- $529 Canadian this week, but they're going fast.