Permalinks to this entry: individual page or in monthly context. For more material from my journal, visit my home page or the archive.
Not the Vin Diesel movie
I went to read a story at news.com (via Doc Searls) and saw this ad for Dell laptops: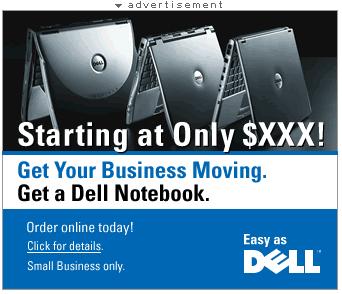 When I went back to the story, there was no ad at all. Later, it had been replaced by something else. I guess a price "starting at $XXX" wasn't what they meant.
---
UPDATE: I went back to the story again and hit Reload a few times. The $XXX ad is still there, but you get it randomly with ads for servers and desktops (with proper prices) and different ones from Gateway, as well as occasional pages with no block ad at all. So as far as I can tell, Dell hasn't yet noticed.