Permalinks to this entry: individual page or in monthly context. For more material from my journal, visit my home page or the archive.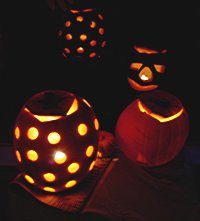 When my kids and I went trick-or-treating last night, we brought along Nina, my parents' 20-year-old houseguest from Germany.
I noted to her that Halloween is the only time of year I speak to many of my neighbours, some of whom I've known since they were the parents of kids who went to elementary school with me. She thought it a bit strange that the one time we do say hello, our houses look like they should be scaring people away.
Were the fireworks cheaper this year? There seemed to be many more, and from our panoramic front window, we could see them shooting into the sky all across the city.