Permalinks to this entry: individual page or in monthly context. For more material from my journal, visit my home page or the archive.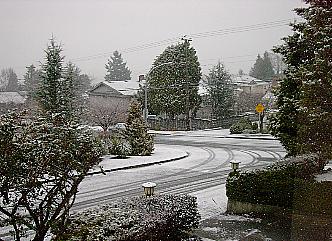 According to Environment Canada, there's only an 11% slim chance of a snowy Christmas here in Vancouver.
But here we are!
Snow is unremarkable for most of the country, but we're called the Wet Coast with good reason. Also according to Environment Canada, the best chance for a "perfect Christmas" (at least 2 cm of snow on the ground, and another centimetre falling overnight on Christmas Eve) is in Sault Ste. Marie, Ontario -- 76% probability any year.
I'll take whatever we can get -- we're a few hundred metres up, and last I heard, it was raining closer to sea level.