Permalinks to this entry: individual page or in monthly context. For more material from my journal, visit my home page or the archive.
Large numbers are sometimes hard to comprehend—even relatively small large numbers. What does 500 of something look like? How about 200,000 of something? Or 3 million of something?
One disadvantage of digital cameras is that you have to make an effort to make photo prints. I had left it too long, so yesterday I had 500 (!) 4x6" prints made at my local supermarket, which now handles digital files from CD. They covered 18 months, from the fall of 2002 until two days ago. And here they are: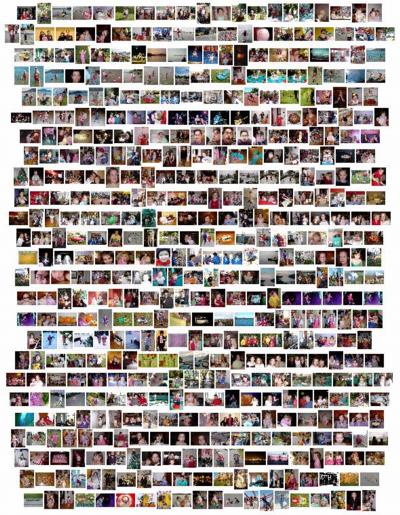 One advantage of digital is that these 500 are only the ones I wanted, out of several thousand in total. They're private, so no, you don't get to see any bigger versions. However, if you look closely, you will spot a few that have been posted on this site previously.
Some more numbers: That 20x25 grid of photos is 400 pixels wide and 515 pixels tall, which is 206,000 pixels in total. The full-size version of each photo was originally 2048x1536 pixels, or 3,145,728 pixels in total—more than 15 times as many dots per photo as the entire montage you see above.
The 500 photos on disc consumed 400 MB of information. The picture of those 500 photos on your screen is 76 KB, about 5,000 times smaller. Even using my high-speed Internet connection, downloading the full disc's worth of photos would take at least an hour and a half. The small version you see takes between one and two seconds.