Permalinks to this entry: individual page or in monthly context. For more material from my journal, visit my home page or the archive.
UPDATE: For some mysterious reason, using Apple's own MPW (Macintosh Programmers' Workshop) font (quite similar to ProFont, and available from the company's developer FTP site) solves the ligature problem. The curly quotes and other plain-text abominations can be deactivated using Entourage's Tools > AutoCorrect > AutoFormat settings. Thanks to Dan Crevier for the suggestions.
I'm trying out the Microsoft Office 2004 Test Drive, a 30-day free downloadable (180 MB) trial version of Microsoft's latest for the Mac. I want to see if there's enough in there to justify upgrading from my current Office v.X setup.
For me, that means evaluating only Word and the Entourage e-mail/address book/calendar application. I spend most of my day in Entourage and write in Word, but hardly ever launch PowerPoint or Excel. So here's the problem: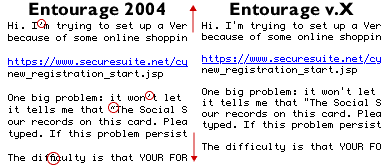 See the ligature (the "fi" combined into one character)? The curly quotes and apostrophes? The increased line spacing? In a monospaced font like ProFont 9 point, which I prefer, they're ugly, distracting, and pointless. I can't figure out how to turn them off.
If it turns out there's no way to deactivate them, I won't be upgrading. That's a pretty subtle way for Microsoft to lose a sale, isn't it?