Permalinks to this entry: individual page or in monthly context. For more material from my journal, visit my home page or the archive.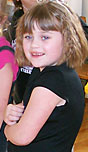 During the 1998 Nagano Winter Olympics, around 4 a.m. Vancouver time, my wife and I received an excellent Valentine's Day present.
Today she turns seven years old, and is off at school. I remember being seven very well: it was 1976, the year my parents and I took a long driving vacation through Oregon in our big Mercury station wagon, visiting Portland, Lincoln City, Bend, Crater Lake, and more.
My seven-year-old has been to Oregon twice, is taking math and spelling tests (which I don't remember from Grade 1), plays Nintendo GameCube (er, no, didn't have those), and is learning piano (I hadn't even started guitar yet). So in many ways she's ahead of where I was.
Happy birthday, Miss M!