Permalinks to this entry: individual page or in monthly context. For more material from my journal, visit my home page or the archive.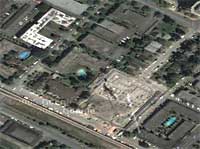 Now that Google Maps has added satellite imagery, my wife and I have discovered a neat game: you can search for all the buildings in your neighbourhood that have swimming pools you didn't know about.
Finally, I understand the high rents some of the unassuming apartment buildings in my area have been charging.
If you drag around the satellite map, you can see the lines where different photos have been digitally stitched into mosaics (it's particularly obvious on water). Also, while Google has tried to use photos with as clear skies as possible, there is the occasional cloud (and its shadow) if you look closely.
BONUS: James Archer is tracking particularly cool Google Maps satellite photos.