Permalinks to this entry: individual page or in monthly context. For more material from my journal, visit my home page or the archive.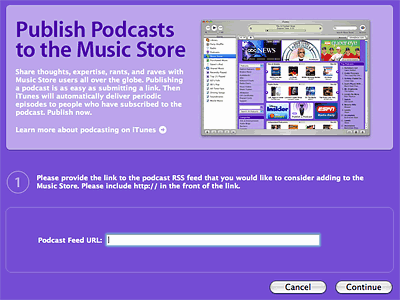 As of today, you can publish your own radio show to iTunes for anyone to download and listen to on their iPods, or listen to thousands of shows from around the world. It looks like Apple won't publish them automatically, but will vet them somehow, and I'm not sure how that will work. But this is big news for the podcasting community.
Go ahead and subscribe to CBC Radio's Quirks and Quarks or Todd Maffin, why don't you?
Here are some podcasts from Gnomedex at the Gnomedex wiki.
Or go make your own show! Here's some music to listen to while you're at it.