Permalinks to this entry: individual page or in monthly context. For more material from my journal, visit my home page or the archive.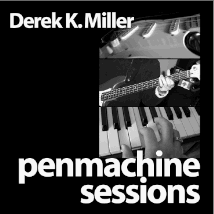 UPDATE: It's ready now, earlier than expected. Go ahead and shop.
My new page at buy.penmachine.com, where you'll be able to place an order for my brand-new music CD album of instrumental rock goodness, Penmachine Sessions, is almost but not quite ready.
In the meantime, Merry Christmas, everybody! If I don't see you in person, you can listen to me say it in MP3.