Permalinks to this entry: individual page or in monthly context. For more material from my journal, visit my home page or the archive.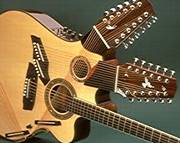 My ol' pal Bill has created a lovely new word—wankharp:
Any instrument with a ridiculous amount of excess capacity which is used primarily to display technical ability of no musical interest except in the context of its own display. Painstakingly crafted, fantastically expensive to purchase and fanatically maintained wankharps are only enjoyed ironically by anyone other than an actual or potential wankharp owner.

Most commonly, wankharps are used to bridge the gap between the kind of technical exercise the practitioner enjoys working and the kind of music that people actually like to listen to. This is accomplished through the wankharpist's performance of some whimsical, easily recognisable piece of music that the performer would never otherwise play and the audience would never otherwise seek out.
Here are examples one (played) and two (photos).