Permalinks to this entry: individual page or in monthly context. For more material from my journal, visit my home page or the archive.
Given my previous experience with ordering from Apple online, I don't expect to see it before June 5 or so, but I could be pleasantly surprised and get my new black MacBook ("the BlacBook") before the end of this month: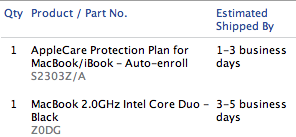 I was sorely tempted to cross the border and drive to Lynnwood to pick one up, but that would be just silly. Plus there was a three-and-a-half hour border lineup today because of the Canadian long weekend.
Yes, I checked.