Permalinks to this entry: individual page or in monthly context. For more material from my journal, visit my home page or the archive.
In January, I wrote here about some stuff my geeky friends were interested in, and traffic to the site spiked slightly. In April, I published an article in the Vancouver Sun, the major local newspaper, and traffic spiked significantly. Earlier this month, I published a review of Palm OS word processors in an internationally-read e-mail newsletter, and traffic spiked again. Take a look: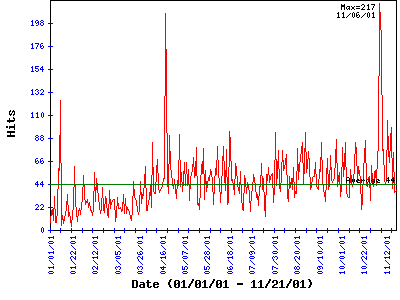 See if you can find the days in my archive when the pieces were published. I note that traffic always returns to some subliminal background level after each incident, so I can rest assured that I haven't become too interesting.
P.S. I've redesigned the home page slightly today. There's now a video link in the right-hand column, as well as a few other minor changes.