Permalinks to this entry: individual page or in monthly context. For more material from my journal, visit my home page or the archive.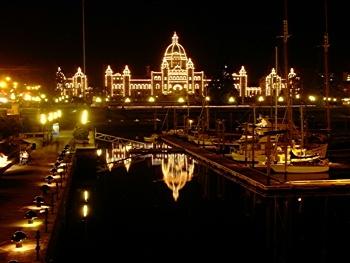 In our first trip out of town without our two preschoolers, my wife and I spent Saturday night at the Bedford Regency Hotel in Victoria, which I had listed in my article here on the best hotels in the region.
The Bedford, thankfully, hasn't changed much in the five and a half years since we last visited. It still has quaint rooms with fireplaces, fluffy down comforters, and jetted soaker tubs. But now you can get wireless Internet access in your room too, or use the free Web kiosk in the lobby. Cool.
By the way, the photo is not of our hotel, but of the B.C. Legislature buildings just after dinner Saturday night.