Permalinks to this entry: individual page or in monthly context. For more material from my journal, visit my home page or the archive.
I have a consistently good time giving talks to people about Web sites, as I did tonight to the last Web writing class of the 2003 Douglas College Print Futures program.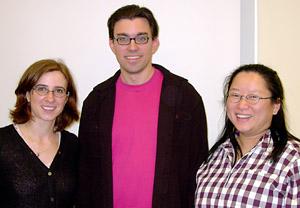 Just call us "twelve eyes":
From left to right, that's my co-presenter Anne Pepper,
me, and course instructor Gladys We. All three of us
have been at this stuff for a long time.
I ranted at some interminable length about what I think Web sites are for, how I built this site, why weblogs are good, how to fix Microsoft Word's horrible "Save As HTML" output, the smartness of Creative Commons, why to avoid splash screens on sites, and why cool sites are often useless (though uselessness can have its own perverse charm).
Anne talked about making a real living from Web writing for actual genuine companies like law offices, mutual fund firms, sports organizations, and Nintendo. She is very smart and knowledgeable, and you should go hire her if she's not too busy.
Gladys suggested I apply to take over her job at Douglas next year, since she's going on maternity leave and then back to her full-time position at Simon Fraser University, but with my own two preschoolers at home, I don't think I'll have the time.