Permalinks to this entry: individual page or in monthly context. For more material from my journal, visit my home page or the archive.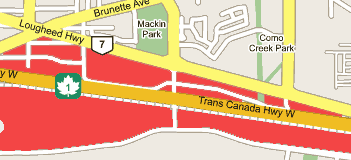 The Vancouver suburb of Coquitlam is a nice place: green, livable, and pretty. Except for one part, which is probably the ugliest section of the entire Lower Mainland.
That statement shouldn't offend anyone—except perhaps the urban planners who let it happen—because it's not a neighbourhood, and as far as I know no one lives there. It's a stretch of big-box strip mall centred on a wedge of land between the Trans-Canada Highway and the Lougheed Highway, and stretching south to the Fraser River. It's home to Ikea, Toys 'R' Us, Future Shop, Crash Crawly's, car dealerships, a bunch of decent roadside restaurants, the Greyhound bus station, and an abandoned transit loop.
It's busy: thousands of Greater Vancouver residents drive through it every day, on the way into the city or out into the rest of Coquitlam, Surrey, Maple Ridge, Port Moody, and elsewhere. That's part of the problem, because it's dominated by two multi-lane commuter roads on either side—day and night, almost the only audible sound is the roar of traffic. What's left is a series of short asphalt connectors, fenced-in streambeds, weedy concrete medians, and parking lots. Since the area is built over alluvial soil, many of the roads, lots, and driveways undulate where they are settling unevenly. There are few sidewalks, and nearly no one walks them.
As a bonus, those of us who grew up in the area know that most of the big-box stores (though not Ikea) that run along United Boulevard, south of the Trans-Canada, sit on land that until the early 1990s was a city dump.
Does anyone have a nominee to beat my Ugliest Part of Greater Vancouver?