Permalinks to this entry: individual page or in monthly context. For more material from my journal, visit my home page or the archive.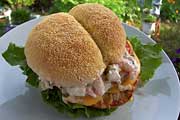 Food photography is difficult, and people get paid a lot of money to do it professionally. My colleague Darren Bockman works miracles with food photography in natural light at Where2Eat, but most food photographers need lots of lights and special equipment—because it's easy to make food look unappetizing in a photo.
A couple of days ago, KKL and Jeff came over with their son for a barbecue at our house. We made both beef and chicken burgers, and in a moment of inspiration, we added some of the shrimp dip they had brought along as an oscar sauce.
My particular chicken burger turned out so well that we just had to photograph it, Darren style. And it worked! Yummy.