Permalinks to this entry: individual page or in monthly context. For more material from my journal, visit my home page or the archive.
Apple has now added my Penmachine Podcast—a free subscription to new songs I compose and publish here on my site—into its directory, so in addition to the drag-and-drop subscription method, you can now instead:
Run iTunes (version 4.9 or later).
Choose Music Store from the left sidebar.
Click Podcasts in the Music Store's left-side menu.
Search for "penmachine" or "derek miller" in the search box at the top right of the iTunes window.
Click the Subscribe button.
Here's what it looks like: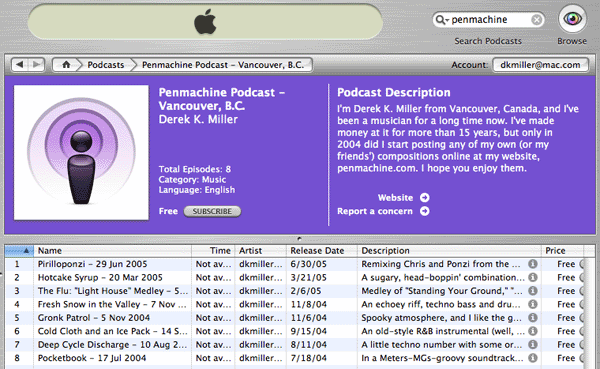 There might be a way for me to construct a link directly to the podcast in the iTunes store (rather than just here on the website), but I don't know of it yet.
UPDATE: Found it! Click this: