Permalinks to this entry: individual page or in monthly context. For more material from my journal, visit my home page or the archive.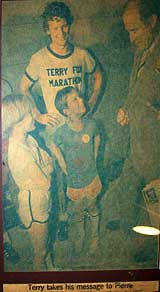 Okay, try to imagine the most Canadian photo you (or someone you know) have been in.
Being sworn in as a new citizen on Canada Day? Towing a maple leaf flag behind a dog team to deliver insulin to a group of moose hunters trapped in an igloo during a snowstorm? Paddling the Rideau Canal in a canoe while munching back bacon and drinking maple syrup? Arguing before a royal commission on health care with a view of Saskatchewan wheat fields in the background?
Sorry. Our friend KerryKLove has you all beat. I saw it, framed, on the wall of her father's home office at a party yesterday, and I stood staring at it for a few minutes before I had to sneak back in with my camera to get a copy.
It's a newspaper clipping, 25 years old, yellowed and faded:
She and her brother are kids. It's July 1, 1980 (Canada Day!), and they're helping to present a Marathon of Hope cancer research fundraising T-shirt...
...to Pierre Trudeau, while he was in his last term as prime minister...
...from Terry Fox, taking a short break from his attempt to run across Canada.
The reason KerryKLove and her brother are in the picture is that their dad was the PR guy [not the camper driver, as I'd previously written - D.] for Fox during his run, and they were on the road with him for a good chunk of that summer. The encounter between the runner and the prime minister, which took place in Ottawa, was apparently awkward, because Fox had not yet garnered much publicity, and parliamentary staff had not properly briefed Trudeau, who didn't know about the run (rather Canadian in itself, I'd say). It would be their only meeting.
If you or someone you know is in a photo that's more Canadian, I'd like to hear about it here or at Flickr.
Anyone?