Permalinks to this entry: individual page or in monthly context. For more material from my journal, visit my home page or the archive.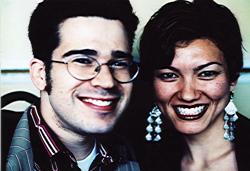 I'm churning out these free podsafe MP3 tunes fast and furious right now—just two days after the last one in this case.
When I first converted my free MP3s page page into a podcast back in June, my first track was "Pirilloponzi," with vocals sampled from the June 23 episode of the Chris Pirillo Show, featuring Chris, who organizes the Gnomedex conference with his girlfriend Ponzi. They are very funny together. Well, now they have a video podcast, and I sent them a very short, modified version of "Pirilloponzi" as a theme song.
After that, I extended the remix and made it into a full tune, which I'm calling "P and P" (2.8 MB MP3 file). It no longer has vocals, but it's the same guitar part I recorded before, with completely different background tracks, and speeded up to 140 beats per minute. If you subscribe to the Penmachine Podcast, you may already have it. (By the way, the photo is by Kris Krug, another gnomedexer.)