Three years ago, I set a couple of goals: to try to beat back cancer long enough to see the Winter Olympics come to Vancouver, and to live a couple of years longer so I could renew my driver's license when it expires in 2012.
Well, I hit the first one:
That's the Olympic torch being carried up Willingdon Avenue, about four blocks from my house, on its way through Burnaby and Vancouver to the opening ceremony tomorrow. Two years and a bit from now, maybe I'll get that new driver's license too.
Labels: cancer, death, driving, olympics
It's been a busy Christmas, made busier by enough snow to nearly paralyze a usually not-very-snowy city like Vancouver. Yet my wife, daughters, and I were able to pilot our snow-tire-equipped Toyota Echo through the wilds of East Vancouver to my aunt and uncle's house for our traditional family Christmas Eve event. We did have to bunk out there overnight, though.
Today, Christmas Day, we made it home, cleaned up, changed, unpacked, and then ventured out to Maple Ridge for a quiet dinner with my wife's parents. The roads by then were better. Besides eating, I performed some of the usual in-laws' tech support to help my father-in-law configure their new Internet Wi-Fi radio set, and my mother-in-law create her first blog. (No content yet, so a link must wait.) With more snow forecast, we made an early night of it and returned to Burnaby again, and Christmas was complete.
Now, as the day ends, I think back not only on Christmas and my happiness at being relatively healthy again this year (tumours in my lungs are still growing, but very slowly, and maybe my new holistic health approach is assisting the cediranib in keeping them somewhat at bay), but also about the deaths of two people. They were my friend Martin Sikes, who died suddenly a year ago on the morning of Christmas Eve, after sending me what turned out to be a spooky email; and James Brown, who appropriately, somehow chose the most bombastic of days, December 25, to make his last fleet-footed shuffle off the stage.
From now on, to me, December 24 will also be Martin Day, and December 25 is JB Day. In their honour, I'm drinking my first glass of The Balvenie 15-year-old scotch whisky tonight, from a bottle given to me on my birthday in 2007 by Alistair—but which I have only now opened.
I hear the plow truck finally making a pass through our street outside, near midnight. I am exhausted, and content. Slàinte to MS and JB, and Merry Christmas to you.
Labels: cancer, chemotherapy, death, driving, holiday, inspirehealth, martinsikes, music, vancouver, weather
I was driving back from the Vancouver suburb of Maple Ridge with the kids today, and my older daughter was playing Mario Kart DS in the back seat.
It was a strange cognitive experience, because we were barreling down the Mary Hill Bypass with Mario Kart music playing. My younger daughter said she was glad we weren't getting hit by red shells, and I was pleased to be able to resist bumping into other cars or going off wacky jumps.
Labels: driving, family, geekery, music, videogames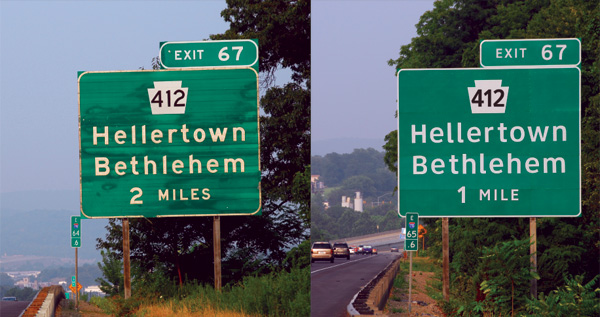 Via John Gruber, here's a neat article about Clearview, a font designed specifically to make highway signage more readable, and now being put to use in many jurisdictions, including here in British Columbia, as old road signs are replaced.
I was a bit surprised to see that if you want to get the font yourself, you need to spend at least $175 USD. If Clearview really is that much more legible and useful than its predecessors such as Highway Gothic, and therefore leads to safer driving, it would seem reasonable for the U.S. federal government or some other agency to pay the designers (who worked on the font for a long time) a decent fee to make it freely licensable to anyone. Then anyone could use it for any kind of signage anywhere, presumably even saving some lives in the process.
Given how many billions of dollars it costs to build roads, the tens (or even hundreds) of thousands of dollars it would take to set up such a free licensing arrangement would seem like money well spent.
Labels: driving, font, johngruber, roads, signs, typography