Permalinks to this entry: individual page or in monthly context. For more material from my journal, visit my home page or the archive.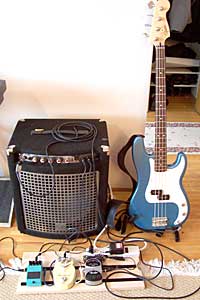 For a few months now I've been looking at getting a new bass amplifier, since I'm interested in teaching myself more about playing bass guitar, in addition to the regular guitar and drums I already play.
I had hoped to sell my big honking Ampeg amp first; so far there has been interest, but no sale. So today a friend and I bundled up the kids in the station wagon, headed down to Long & McQuade, and picked up the Yorkville XM100C, which was my top candidate of the small combo amps I had considered.
What sold me on the Yorkville was its solid sound, obviously hardy construction, good company reputation, simple operation, decent set of features, and excellent warranty—two years of repairs "even if you break it," plus another eight of more standard warranty coverage. Plus it's made in Canada—right on, eh? In addition, Yorkville posts complete instruction manuals and even service documentation online, including full parts lists, circuit-board diagrams, and factory blueprint schematics.
The website includes a range of other free documents, from the company's history to lists of knobs and potentiometers used in their products (!), service bulletins, and a full product line parts catalogue. This isn't a company that tries to make money by keeping secrets about its products. Plus the XM100C amp was cheaper than the competition. Wow.
My particular amp is a former rental unit, but has been cleaned and inspected well enough that it looks and sounds new. With Boxing Week prices in effect, it was a 30% discount from the regular price, so I was able to add a Boss Limiter/Enhancer pedal (giving the XM100C two features it lacks compared to much more expensive amplifiers) and still come out ahead of where I had expected.
It's late now, but a quick test with my Precision Bass and headphones yields the warm, buttery bass sound I was seeking. I'm pleased.
Now, does anybody want that old amp?