Permalinks to this entry: individual page or in monthly context. For more material from my journal, visit my home page or the archive.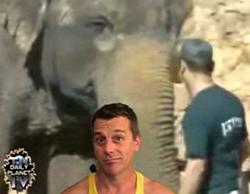 If you're wondering whether any videoblogs are worth watching, I suggest you go check out Lucian's Daily Planet TV video podcast. I found him because he's been using some of my music on the show, but I've kept watching because:
He's funny.
The show is short, so I can fit it in any time of day.
His production values are remarkable, especially when you find out he's doing it all by himself.
Lucian already has 91 episodes in the can, er, pod. Go check out his show. You can use the iTunes link to get to it directly if you want.
Oh, and don't confuse Daily Planet TV with Canada's Discovery Channel show of the same name.