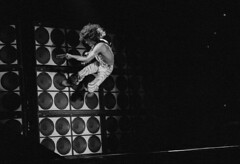 There's a certain type of rock-n-roll song that bypasses your intellect and goes straight for the gut—or a bit lower. One that makes you want to shake your ass, or your head, and sing along, even if you don't know the words, because the words don't matter all that much. They're dumb and sophomoric, anyway, or at least unintelligible—probably about sex or cars or girls or something.
Such a song features guitars, bass, drums, and singing, but probably no keyboards and definitely no strings, horns, or children's choirs. It probably has about three chords, or sounds like it does. The guitars are distorted and loud, and there's almost certainly a guitar solo too, but a short one. You want to turn it up. You know what I'm talking about.
Here is my top 10 list of such songs. Yeah, they're all very mainstream, and you may disagree with me, but I don't care—go ahead and leave a comment if you have further suggestions. I'll include some of my own runners up in a later post. It's a stupid list of stupid songs, which is the reason they're great to begin with:
The lyrics for "Lump" are totally clear on this recording, but you still find yourself wondering if you heard them correctly. "Mud flowed up into Lump's pajamas/She totally confused all the passing piranhas"? Is that right? Check out that chorus: "She's lump, she's lump/She's in my head!" What is it supposed to mean? Does the band even know? Dave Dederer's and Chris Ballew's "guitbass" and "bassitar" only have five strings between them, and Jason Finn uses a tiny drum kit with teeny splash cymbals, but they all put out a lot of wonderful noise. I think, whatever your intellectual analysis of it, this song is impossible not to like instinctively. Maybe I'm wrong, but if you don't like it, I think it's more plausible that you're the one who is.


Steppenwolf waste no time getting to the meat of things on this song. There's one drum hit, then the riff, then, "Get yer motor runnin'/Head out on that highway." And it's the first rock song to mention "heavy metal." You might think you hear the sound of a motorcycle revving when you listen to it, but you don't: the interplay of the instruments simply suggests it to your subconscious. Contrary to my criteria, there is a keyboard, but it's a heavily crunched-up Hammond organ played through a rotating Leslie speaker—the best kind of keyboard, in the same way an empty, winding two-lane mountain highway is the best kind of road.


Thrown together quickly in the studio while the band was rehearsing other material, "Rock and Roll" started when drummer John Bonham played the drum intro to Little Richard's "Keep a-Knockin' (But You Can't Come In)" and Jimmy Page followed with his own guitar part. It's the band's tribute to early American rock, throwing in references to "The Book of Love" and "The Stroll," while avoiding the fairies and mysticism and blues testifying in most of the rest of Zep's lyrics at the time. Hear it once and you'll likely know the words for next time. When you play air guitar, make sure to pull your left hand up high on those power chords during the verses.


I tried to figure out which of these '90s stutter-stop guitar anthems should list higher here, or which one I could bump to the runners up, but I just couldn't. "Song 2" doesn't sound much like the rest of Blur's material, but that's why it's on this list: the band never got around to naming it properly, it's two minutes long, it reached #2 on several charts, and it has a pummeling chorus whose only memorable words are two nonsense syllables, "Woo-hoo!"

The Breeders, on the other hand, say, "Koo koo," or, more thoroughly, "Hey now, hey now/Want you, koo koo/Cannonball." Their song is built on a monster bass riff, vocals laid down as if sung through telephones and bullhorns, squeals of feedback, and thick, chunky guitar chords. Plus a drum fill that launches into the chorus like a machine gun, not a cannonball.


Jack White pretty much always sounds like he's desperate, or insane, or both, and never more so than on "Fell in Love With a Girl." At 1 minute 50 seconds, it's shorter even than most Ramones songs (see below); is only guitar, drums, and vocals (no bass); and sounds like it was recorded from the speaker of an AM radio. It has a wonderful, wordless chorus, "Ah, ah-ah-ah, ah-ah!" repeated four times. Meg White plays her surf beat like a five year old, and it's glorious.


"Hey! Ho! Let's go!" So began the Ramones' decades-long fusillade against overproduced, bombastic, technically proficient music that dominated the charts in the '70s and beyond, seeming to leave the dreams of poor semi-talented garage-band kids in the dust, which was just wrong. "Screw you," the Ramones said to Led Zeppelin and prog and the smooth sounds of L.A. yacht rock. "This song is two minutes long and we have no technique to speak of, but hey, look, this is rock-n-roll power."

Joey Ramone is hiccuping like an amphetamine-fueled Buddy Holly about kids piling in the back seat and losing their minds, Johnny is buzz-sawing his barre chords, and Dee Dee and Tommy pummel away in the background. Despite the disappointing charts and record sales, I'm sorry, "Blitzkrieg Bop" is way better than Steely Dan or the Doobie Brothers.


Sure, Kurt Cobain was depressed and moody, and the whole Nirvana story turned out to be a big downer. But when "Smells Like Teen Spirit" (named after a deodorant) exploded out of radios and CD players around the world to signal the end of '80s hair metal, it was profoundly silly and subversive and liberating. Cobain nicked the riff from Boston's "More Than a Feeling," borrowed the soft-loud-soft dynamic of the Pixies, and gargled out some of the most ridiculous lyrics ever penned: "I feel stupid and contagious/Here we are now, entertain us/A mulatto, an albino/A mosquito, my libido, yeah!"

Yet he was also taking a dig at the very kids who joined in singing, "Our little group has always been/And always will until the end." Yeah sure, teenagers always think so: oh well, whatever, nevermind. The guitar solo exactly duplicates the verse melody too, so it's sort of an anti-solo. Yet you don't need to know any of that, and I'm not sure Nirvana really wanted to you think about it very much, since the song rocks out no matter what.


I think this is the first true punk-rock song. It is certainly encompasses both one of the greatest rock guitar riffs and one of the genre's best guitar solos (by Dave Davies, not Jimmy Page as sometimes rumoured), generated from an amplifier with a torn speaker. I can personally attest that the song is still a crowd pleaser 44 years later, since my band the Neurotics plays it pretty much every show.

That's the same reason Van Halen (see below) released a version as their first single in 1978. And while the Beatles may have sung "oh yeah!" a little earlier, no one has ever snarled it with more conviction than Ray Davies. Sure, the Rolling Stones might have seemed a tad dangerous back in '64, but I'm sure whenever kids put "You Really Got Me" on the turntable, it's what really scared the parents.


The boys in AC/DC are famously proud of having made what is basically the same album over and over again since the mid-1970s. Still, their best work came mere months after original lead singer Bon Scott drank himself to death and was replaced by Brian Johnson in 1980. The title track of their tribute to Scott, "Back in Black" is simply a big huge stomping slab of rock. It lacks the cheeky wit of Scott's earlier tracks like "Dirty Deeds Done Dirt Cheap," "Big Balls," or "Highway to Hell," but that doesn't matter.

It wasn't as big a hit as "You Shook Me All Night Long," but that doesn't matter either—because there's more power and good-time boogie in the first chord of "Back in Black" than most bands put out in their entire careers. The clincher is the sing-along chorus: "Ba-a-a-a-ack! Ba-a-a-a-ack! Back in black, yes I'm back! In! Black!" Put away your schoolboy short pants. You're done.


If you're gonna make a list of mindless fun hard rock, David Lee Roth-era Van Halen has to be at the top of your list. Despite strong contenders like "Hot For Teacher" and "Everybody Wants Some!!", at the top of their list is "Panama," from the final album of the pre-Sammy Hagar lineup, 1984. Where to start? Well, as proof that Eddie Van Halen is just as influential as a rhythm guitarist as a lead player, how about not one, not, two, but three fantastic riffs right at the beginning, each worthy of a full song for any lesser band? That's before Roth even starts singing amid Alex Van Halen's white-noise wash of thumping drums. And what are Diamond Dave's first words? "Oh yeah! Uh huh!" The song is (I think) about a convertible hot rod called Panama, probably driven by a hot girl. Of course.

Eddie's lithe little guitar solo is neck-snappingly brief, but still manages to tell a whole story. It starts off with a stereotypical string-bending riff any guitarist could play, then skyrockets off into impossibly fast finger-tapping, whammy-bar–wrangling madness before settling down into the gritty, slinky background of the spoken-word bridge, in which Roth intones the immortal words, "We're runnin' a little bit hot tonite/I can barely see the road from the heat comin' off it/Ah, you reach down/Between my legs/Ease the seat back..." In the background we hear the revving engine of Eddie Van Halen's Lamborghini, which was apparently backed into the recording studio (!) for the purpose.

Then we're into a building, building, building setup that climaxes with spot-on a capella harmonies from the whole band singing, "Ain't no stoppin' now!" What is the sing-along chorus? One word, over and over: "Panama! Panama-uh!" Who can forget the video too, which is like a compendium of pop petal clichés, including Dave riding through the streets of Los Angeles on his motorbike, mane of hair flowing in the wind?

And we're still done in under four minutes. I bow before you, Van Halen. If there is a more perfect song for a hot drunk summer night, I can't think of it.


After much discussion in the comments to this post, I must also add an honourable mention for Sweet's "The Ballroom Blitz" (I can't figure out which other tune to replace with it), from 1973. Brian Connolly's singing is so off-the-hook frenzied, so Rocky Horror Picture Show over the top that it's almost yodeling, and as Bob noted in the comments here, it's hard to beat an intro like, "Are you ready Steve? Andy? Mick? All right fellas, let's GOOOOOOOOOOOOOO!"
Labels: band, linkbait, lists, music, radio, video