14 October 2009
When we sold our old laptop recently, we used the money to buy a couple of iPod touches for our kids. I know, we spoil them terribly and all that. Ours is a geek house. Get used to it. (And if you're interested in their old iPod nanos, those are for sale too—let me know.)
Ordering online, I presumed (naively) that while the iPods are of course made in China, there would probably be a North American distribution centre where they are individually laser engraved and then shipped to customers here. But Apple and UPS let you track your order. Ours shipped directly out of China, and the results are a bit depressing.
There's been a lot of hoopla about Apple pulling out of the U.S. Chamber of Commerce over the Chamber's poor climate-change policies, Apple's greener laptops made with more recyclable materials, and so on, but I have to wonder whether many of those efforts are being negated by the insanely inefficient transport routes taken by items shipped from the online Apple Store.
Although I ordered two identical devices (with separate custom engraving on the back of each) at the same time, as part of the same order, here's how the two iPods are getting to our house:
iPod #1: Shanghai, China → Anchorage, Alaska → Louisville, Kentucky → Buffalo, New York → Mount Hope, Ontario → Winnipeg, Manitoba → Calgary, Alberta → Richmond, B.C. → Burnaby, B.C.
iPod #2: Shanghai, China → Anchorage, Alaska → Louisville, Kentucky → Lachine, Québec → Montréal, Québec → Mount Hope, Ontario → Calgary, Alberta → Richmond, B.C. → Burnaby, B.C
Same order, same type of device, same factory. But apparently, the most cost-effective way to get them to me was to send them together from Shanghai to Anchorage to Louisville, then to separate them, sending one via New York, Ontario, Manitoba, and Alberta, and the other via Québec, Ontario, and Alberta. Both passed through Mount Hope and Calgary, but at different times. They're both now in Richmond on the way here to Burnaby, hopefully on the same truck (but I'm not sure of that—see below for an unimpressive update).
It's about 9,000 km direct from Shanghai to Vancouver by plane, but on these routes each iPod has traveled almost twice that far (around 17,000 km) by plane and truck, with takeoffs, landings, and transfers. I know the packages are small, but the price of shipping that way can't possibly be taking into account the relative energetic and environmental costs of the two routes.
Never mind that, by essentially excluding environmental effects, it's less expensive to manufacture the iPods an ocean away to start with. How do these transactions add up, when you multiply them by the millions?
If we're interested in ameliorating climate change, I think that we'll have to address the mismatch between the monetary efficiency and energetic inefficiency of these haphazard transportation methods. But that will likely mean that our gadgets will get more expensive in the short term, in order to make our lives more tolerable in the long term. I have a feeling that, with our generally shortsighted human thinking, we might not be willing to accept that.
And that's a bit of a bummer.
UPDATE 11:30 a.m.: There's something amusing about the situation now. Both iPods arrived at Vancouver International Airport in Richmond before sunrise this morning, after making their way halfway around the world, rapid-fire, in five days. But they've now, apparently, been sitting at YVR, about 12 km away from my house, for three and a half hours without being loaded on a truck, because of "adverse weather conditions." What are those conditions? It's raining a bit. In Vancouver, in the autumn.

FURTHER UPDATE 2:00 p.m.: Delivery. Of one of the iPods. They were both at the airport, both supposedly delayed by weather (though it's sunny now), and one got put on a truck and arrived at the house a few minutes ago. The other one, presumably, is coming on another truck. Point reinforced. Next time I'll buy retail, where I can at least assume that two of the same product from the same batch came to the store in the same vehicle.

FINAL UPDATE 5:00 p.m.: The delay of the second shipment at YVR is a mystery even to the friendly UPS phone rep. It will be delivered tomorrow, taking longer to travel the 12 km from the airport to my house than it did to traverse the 3500 km from Ontario to the West Coast yesterday.
Labels: apple, china, environment, ipod, transportation, vancouver
26 May 2008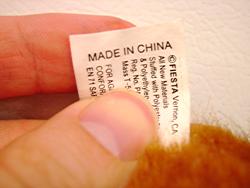 I've developed a habit recently (which my wife pointed out to me) of checking the labels on clothing and other products to see if I can find anything not made in China. That's especially difficult with men's casual shirts, and shoes of any kind. Even venerable British bootmaker Doc Martens moved its production to China more than five years ago. (My three pairs of Docs are from the '90s, and were assembled in the U.K., while my Blundstone boots are from Tasmania.) Sadly, nearly all of the Vancouver 2010 Olympics goods I've seen for sale are made in China too, not Canada.
There are a few reasons for my label-reading effort. One is that I'm not fond of the People's Republic's internal and external politics, with respect to Uyghurs in Xinjiang, Tibet, Tiananmen Square, the death penalty, Sudanese oil, policy reactions to disease outbreaks, Taiwan, North Korea, and so on. I prefer acting on that economically, rather than with symbolic gestures such as urging Canada to boycott the Beijing Olympics.
Second is a combination of experiences I've had with poorly-made inexpensive Chinese goods, and concern about various quality problems that have posed health hazards—from contaminated pet food to tainted children's toys to poisonous food products coming out of the country.
Finally, I'm giving a small bit of pushback to the economic behemoth of Chinese manufacturing. I'd like to give other countries at least a fighting chance of getting my dollar. So, of some of our recent purchases, our vacuum cleaner was made in Mexico, my newest camera lens is from Thailand, my guitars are from South Korea and Japan and Canada (!), my video camera and other electronics came from Japan and Taiwan, the two pairs of sandals I bought today are from Thailand and Italy, and—following in the bare-calfed footsteps of my doppelgänger Darren Barefoot—my new summer man capris were sewn in Bangladesh. (Of course, the Bangladeshi government is no great shakes either.)
Still, it's tricky to avoid Chinese-made goods altogether. Nor is it necessarily desirable. Try finding a reasonably-priced small appliance or a spendy Apple MacBook or iPod made elsewhere, for instance. (In 1993, I was delighted to find that my Macintosh Centris 660AV had been made in Ireland.) Years ago, my friend Tara tried to avoid buying Chinese-made anything, and it was difficult. That was before the massive expansion of manufacturing and exports there in the past decade or so—now such an attempt would be nearly impossible.
I don't think that Chinese workers deserve jobs any less than anyone else. Victims of the recent Sichuan earthquake deserve as much help as those of the Burmese monsoon or the 2004 tsunami too. But it's also worth at least looking to see where your purchases are made, and maybe considering whether something created in another part of the world might be better worth your money.
Alas, those comfy Italian-made sandals turn out to be extremely slippery on the bottom, and I nearly hurt myself badly this evening when they caused me to slip and fall down the hardwood stairs in our front hall. Just because something is made outside China doesn't make it automatically better either.
Labels: china, money, politics, shopping
12 April 2008
A few days ago I wrote about the 50th anniversary of the Ripple Rock detonation, which sent me hunting around the Web for information. Inevitably, I came across lots of pictures of explosions of all sorts.
I think many people in a broad cohort around my age (38), who grew up during the Cold War, have a morbid fascination with photos of nuclear bomb tests. Some of them are chillingly, starkly, awfully beautiful, especially this set from the French Licorne ("Unicorn") test in the Pacific in 1970:
Reports say that the day of the Licorne detonation had "cloudy conditions but good visibility," but notice how the bomb's shockwave punches right through those clouds, sweeping them entirely away and leaving blue sky in the later pictures. Scary.
Of the hundreds of above-ground nuclear detonations by the U.S., the U.S.S.R., the U.K., France, and China between 1945 and 1980, no two seem to have looked the same. The photographs that freak me out the most are those where the surrounding landscape (and thus the scale) is clear. Or where soldiers walk towards a mushroom cloud in the Nevada desert.
China performed the last atmospheric test of a nuclear weapon almost 28 years ago—these sorts of photos are all, thankfully, now historical. But North Korea conducted what may have been a failed atomic explosion uderground as recently as 2006.
So those mushroom-cloud images don't worry me like they used to when I was a kid. But the worry isn't entirely gone either, is it?
Labels: age, americas, china, europe, history, korea, science, war
01 April 2008
A couple of interesting links from friends of mine today (nope, neither is an April Fool's joke):
First, Dave pointed me to tweetcloud.com, which aggregates Twitter posts into a tag cloud. Here's mine: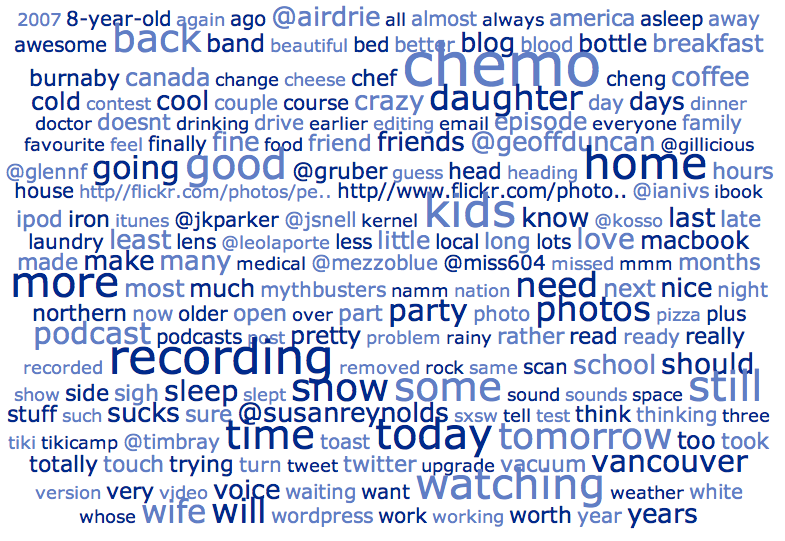 Funny, one of the words listed there is "cheng," which only appears because when I type Twitter posts on my iPod Touch, it tries to spell-correct "chemo" to "Cheng." That's annoying when it happens.
Second, Bill linked to an article in the New York Times noting that:
In the 17th century, China and India accounted for more than half the world's economic output. After a modest interlude, the pendulum is swinging back to them at a speed the West has not grasped.
Some would argue that the overall pattern of human history since the invention of agriculture has been a long, slow march to the eventual ascendancy and dominance of China. It may be true.
Labels: china, controversy, friends, politics, web
07 June 2007
My wife reports to me that there are now nearly 50 people on the Facebook group called "Derek K. Miller Should Join Facebook." So far I'm not caving, but I may very well eventually. After all, I gave in on Flickr in time, so there is some precedent.
But that took almost a year, and it's only been a couple of months since the Facebook pestering began. You might have to wait a bit yet.
Now, to distract you: look over there! Chinese writing may have originated as long as 8000 years ago! Neato!
Labels: archaeology, china, ego, facebook, friends, geekery, language
04 June 2007
Labels: anniversary, censorship, china, history, military, news, photography, tiananmen