30 June 2009
I turn 40 today, and in honour of that, here is "Dodging Buses" (3.7 MB MP3 file), a three-minute instrumental number. Like many of my others, it has that signature Penmachine granky guitar-bass-drums sound, with a hint of AC/DC. I started recording it back in March, using my Yamaha Pacifica electric guitar tuned to an open E chord, but only in this past week did I add bass, mix, and then master it.
The name comes from something I've said numerous times during my past two and half years of cancer treatment: the saying goes that you could get hit by a bus anytime, but personally, I feel like I'm dodging buses every day. It's licensed for you to share and reuse, as long as you give me credit, so have fun with it.
Labels: birthday, free, music, penmachinepodcast, podcast
13 April 2009
If you watch this trailer for the documentary film Paper or Plastic?, around the 1 min 35 sec mark, you'll hear my tune "Meltdown Man," which the filmmakers licensed from me last year:
The movie about the world grocery bagging championships. Yes, you read that right. I haven't seen the whole film yet, but it looks fun.
Labels: film, free, movie, music, penmachinepodcast
21 December 2008
When I put together the GarageBand video course that Mac Video Training is now selling, I of course had to construct a song using the program. I had no plan in advance, so as I worked my way through the various videos the tune sort of assembled itself into a weird little song I ended up calling "Vitamin Yummy" (3 MB MP3 file):
It's silly, and I'm not even sure what style to call it, but there you go. As usual, it's available under a Creative Commons license so you can share it around. I'm also not sure if this song qualifies for the Miss604 iTunes Giveaway either, but I'll enter it anyway.
Labels: apple, free, guitar, insidehomerecording, music, penmachinepodcast, software, video
17 December 2008
UPDATE: This recording and its predecessor are both listed at Uwe Hermann's page of freely licensed Christmas songs.
Three years ago I recorded a classical guitar version of "We Three Kings" (MP3 file) and last year I used it as the soundtrack of a Christmas slideshow. People liked both of them, so this year I have for you a short (1 min 43 sec) solo classical guitar recording of me playing "What Child Is This?" (2.4 MB MP3 file), another traditional carol, also known as "Greensleeves" when it's not Christmastime:
I'm putting together a segment for Inside Home Recording about how I recorded and mixed this piece, so watch for that in the next few days. You can also find this recording, which is free for you to share and remix, at the Podsafe Music Network and the Internet Archive (in a bunch of formats).
And no, I still don't have my act together to get the Penmachine Podcast page functioning technically yet, so it's not available there yet. I'll get to it.
Labels: free, guitar, holiday, music, penmachinepodcast
12 November 2008
For the past two and half years, I've been using Apple's iWeb to publish my Penmachine Podcast of original free MP3 music, interviews, and such. It's always been a pain to use, especially when the files aren't hosted on Apple's .Mac/MobileMe service (which mine aren't), but I kept working with it out of inertia and because it was worth knowing how iWeb works, as well as because I don't update that podcast very often anyway.
But earlier this year, Apple went and broke iWeb for podcasting, and seems in no hurry to fix it. So while I figure out how to migrate my podcast over to some other platform (probably WordPress, but we'll see), I'm just going to post the two new songs I have for it here. I'll add them to the Podsafe Music Network soon too.
New songs
Each link goes directly to the MP3 file for the song, so right-click or control-click to download it instead of playing it in your browser. Unless noted otherwise, all MP3s linked from this post are available under a Creative Commons Attribution 2.5 license. Use them as podcast theme music, backgrounds, or remix them, or whatever—just give me credit:
"Pepper Plant" (4.3 MB MP3 file) - Of course I've been working on new songs and speaking and going on the radio since March, but I've been too lazy to update the podcast. No more. Here is "Pepper Plant", an instrumental tune I finished in October 2007, but thought I would add to, or at least remix. Yet somehow I never did. Listening to it again, it sounds just fine, so I figured I'd post it up. I'd describe it as something like an old Booker T and the MGs instrumental tune, though not quite as groovy. Give it a listen and see what you think.
"Spokesmodel Six Eight" (2.9 MB MP3 file) - Earlier in 2008, I borrowed a set of MIDI electronic drums from our friends KA, Jeff, and Clive. "Spokesmodel Six Eight" emerged from using that kit: its name comes from the 6/8 time signature I chose to play it in, since that's something not easy to find in the built-in drum loops for GarageBand. It's another track I expected to finish off, polish, and remix at some point, because it's nothing but drums and some guitars. No bass, no keyboards, no vocals, hardly any arrangement there at all. But it doesn't need more than that, and I particularly like the sounds of the guitars I managed to obtain. So rock out with it.
Old songs
As a bonus, here are all the free MP3 songs (again, mostly instrumental) I've published to the podcast since I started in 2004, in semi-alphabetical order. Tracks with an asterisk * are also available on my album Penmachine Sessions from 2005:
Labels: apple, free, itunes, music, penmachinepodcast, podcast
07 February 2008
UPDATE: Lloyd Budd points out that these are not really open source.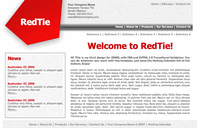 OSWD is a bunch of open-source web designs, most of a bloggy style. There are more than 2000 of them so far, and you can contribute your own—at least if you have better web design skills than I do.
Thanks to Bre for the link. Here's a nice example, called RedTie.
(P.S. If you click on the image you'll see what it looks like now that I'm trying out Cabel Sasser's very slick FancyZoom web design JavaScript.)
Labels: design, free, geekery, opensource, web