Permalinks to this entry: individual page or in monthly context. For more material from my journal, visit my home page or the archive.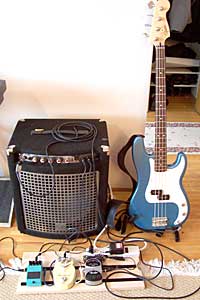 Electric bass players, like guitarists, keyboardists, drummers, and other rock musicians, can get out of control with gear when searching for the perfect tone. Now that I've bought myself a decent modern Yorkville bass amp to replace the old Ampeg monster I have in the basement, I've had to resist the temptation to add a whole slew of effects too.
I am using three effects pedals: a Fender tuner, a Boss bass limiter/enhancer, and my old Danelectro "Daddy-O" guitar overdrive pedal. The overdrive from the Danelectro is fine, but because it's designed for guitar, it loses some of the bass's low end no matter how I set it.
So of course I have a mental "wish list" to replace or augment the Daddy-O, but it's not crazy:
The Tech21 SansAmp Bass Driver preamp/direct input (DI) box, recommended to me by the same person who originally pointed me toward the Yorkville bass amp line.


The Fulltone Bass-Drive overdrive/distorition pedal, which is useful for both guitar and bass.
Both come highly recommended by the reviewing communities at Harmony Central and the Bass Gear Review Archive (I recommend checking Harmony Central before you buy any musical gear, by the way). One or both of the pedals might eventually end up on my pedal board. Or not. My sound is pretty good now, and I should probably actually learn to play the bass properly before I let my gear-head tendencies get the better of me.