Permalinks to this entry: individual page or in monthly context. For more material from my journal, visit my home page or the archive.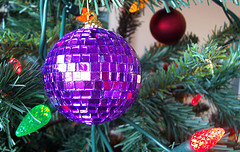 Back in October 2005, I said I would record a Christmas carol, and thought that "We Three Kings" (2.8 MB MP3 file), written by John Hopkins Jr. (1820–1891), would be a good one. So here it is.
UPDATE December 2008: This recording and its successor "What Child Is This?" from 2008 are both listed at Uwe Hermann's page of freely licensed Christmas songs.
Unlike any of my other tunes, this has no loops, samples, MIDI instruments, or other fancy stuff. It's just me playing the classical guitar my parents bought for lessons when I was 10 years old, with a microphone and some reverb for that concert hall sound. It's short, just two minutes, so enjoy it. It's also available via iTunes and on the Podsafe Music Network. The composition is public domain, and the recording is © 2005 by Derek K. Miller.