Permalinks to this entry: individual page or in monthly context. For more material from my journal, visit my home page or the archive.
Google's Gmail puts context-sensitive ads in your browser window based on the contents of whatever mail you're looking at. That's how Google makes money from the free email service. Sometimes the ads get interesting (I added the red box):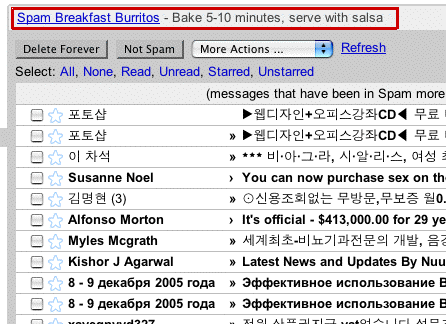 There's a new SPAM-related food ad on every page of spam email listings. "Spam Hashbrown Bake," "Savory Spam Crescents," "Spam Skillet Casserole." Each has a tagline: "Broil until golden," "Bake 5-10 minutes, serve with salsa," "Toss with linguine." Or how about "Vineyard Spam Salad - Combine grapes, spam, peapods and onions in large bowl"? That's my favourite.
I have to admire the initiative of Recipe Source, who's placing those ads. They got my attention!
But not my appetite.