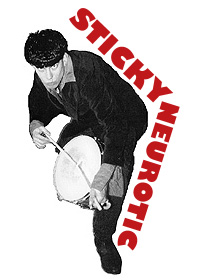 Twenty years ago this spring, I played my first gig as a drummer, at the Last Class Bash for the UBC Science Undergraduate Society. Our band, the Juan Valdez Memorial R&B Ensemble, was a five-piece with me on drums, my roommates Alistair, Sebastien, and Andrew on guitars and bass, and Ken Otter (now a professor of zoology) on another guitar.
We'd spent months rehearsing, but we still didn't know how to sing proper harmonies. Our playlist included mostly old songs from the '60s: "Gloria," "Long Cool Woman," the theme from "Batman." I skipped a final lecture for one of my high-level biology courses to set up for the show in the Student Union Building party room. Our friend Steve ran the rented PA system.
We were relatively terrible, but we were silly, and we had a good time. So did the heavy-drinking audience.
I'm still playing in a later version of the same band. Sebastien is still on guitar, I'm still on drums when I feel up to it. We're still playing some of those same songs. I've spent half my life in this act.
Labels: anniversary, band, friends, memories, music, neurotics, school