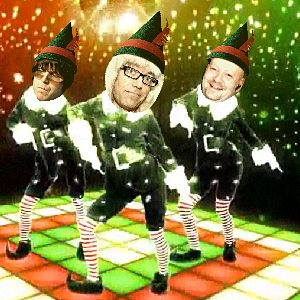 Last night my friend and former podcast co-host Paul Garay (who plays piano) and his wife Kelly held a little pre-Christmas party at their house in the Silver Ridge neighbourhood of Maple Ridge, near the snowy peaks of Golden Ears east of Vancouver. A few friends and family dropped by, including my pal and bandmate Sean Dillon (guitar), and Paul's cohorts Renée Cook and Steve Bulat (violin and guitar), to add to my slightly mad drumming skillz. My daughters, Paul's children, and other kids dropped in, plus my in-laws (who live down the road) and parents came too.
We planned a Christmas carol jam session in Paul's basement, where he'd set up a drum kit and PA system. Sean brought his Stratocaster and amp, I brought my snare drum and some extra percussion to share around, plus my bass and amp for someone to use.
We called ourselves the Maple Ridge Three, and since it was in Paul Garay's house, the session became "Rated PG with the Maple Ridge Three." For the first few songs, our featured guests Renée brought her violin, and Steve had his acoustic guitar, though we never ended up using it since he took up the Fender bass instead.
The songs
Guess what? You can hear what we played, because I also brought my Zoom H4 audio recorder, which I simply plopped on a shelf and let run for an hour or so. Here's what we hacked together, without any rehearsal, planning, or any real idea of where we were going with the tunes. All are MP3 files you can play on any modern device (composers are in parentheses):
Sure, we veer away from Christmas tunes pretty quickly, the performances are fairly sloppy (especially vocals, where we forget most of the lyrics), there's occasional blip-bzzt-bzzt crosstalk from a nearby cell phone, and much of the time we're not even sure what song we're playing until we're well into it. But there are some nice moments. I particularly recommend our original jazzy instrumental "Nights on Silver Ridge," our Latin-influenced take on the Police's "Roxanne" (at the end, you can hear Sean call out my parents for their excellent dancing), and Paul's soulful reading of Bill Withers's "Ain't No Sunshine When She's Gone."
The four *asterisked songs are fully free, podsafe, and share-able MP3s using a Creative Commons Attribution license: since they're either public domain or our own compositions, you can do whatever you like with the recordings, as long as you note who wrote and performed them. The other tracks remain someone else's copyright as compositions, so they're in more of a grey area. Enjoy, but please don't try to make money with them or anything.
The musicians
The Maple Ridge Three are:
Paul Garay - keyboard (piano, organ, etc.), vocals
Sean Dillon - guitar, vocals
Derek K. Miller - drums, vocals
Our guests:
Renée Cook - violin (tracks 1 and 2)
Steve Bulat - electric bass (tracks 3, 4, and 5)
Various kids and relatives - tambourine, shakers, cowbell, triangle, background vocals, dancing
Techie nerd details
These recordings are completely live off the floor, in the order we played them, recorded to 320 kbps stereo MP3 using the default equalization on the Zoom H4, which was positioned on a shelf at about head-height for a sitting audience member in Paul's basement.
The only production I did was split the one long MP3 into individual uncompressed AIFF-format song files, trim out in-between chatter using Rogue Amoeba's lovely, minimalist Fission sound editor, and convert them to MP3 again via iTunes. Despite having the live limiter and a low-cut filter running on the H4 recorder, I did have the levels for the built-in stereo microphones set slightly too hot, so there's a bit of distortion here and there.
The band portrait comes courtesy of JibJab's Elf Yourself.