The Neurotics began their careers with the 1962 smash U.K. album, "Please Please Oh Please Please Me (Please)."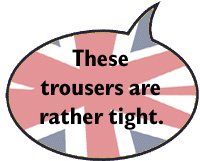 Their wild new music, which they dubbed "rock and roll," soon took the world by storm. They became universally known as the "Flab Four," due to their tight trousers and trendy weight problem. Their songs were immediately stolen by the likes of the Beatles, the Rolling Stones, Bachman-Turner Overdrive, and Tom Jones.
Sadly for music lovers everywhere, the entire band became horribly drunk in Murmansk in 1979. When they regained consciousness in 1992, the Neurotics found the world of rock and roll in a shambles, and set out to put things right. Ever since, they've been driving fans round the world into a Fab-Rock frenzy!
These days, you might encounter a number of different Neurotics: any four of Dirty Neurotic (guitar, keybaords), Sticky Neurotic (drums), Swingy Neurotic (bass), Bumpy Neurotic (guitar, bass, keyboards), Dilly Neurotic (guitar), Fabby Neurotic (drums), Woody Neurotic (guitar, harmonica), Doink Neurotic (bass, harmonica), Knobby Neurotic (bass), Lumpy Neurotic (bass, guitar), and others (including such luminaries as Slappy and Randy Neurotic) now make their Fab-Rock home in the lineup. Some, such as Stubby, Quickie, and Groovy Neurotic, have moved on to greener pastures. Who knows who might be playing at our next show?
Audiences Worldwide
The Neurotics have played all round the world for many different audiences, for seething crowds as large as 45,000 fans—and from the beaches of St. Kilda in Melbourne, Australia to the famous Red Room of the Sherry-Netherland Hotel in New York City. Here are just a few examples:
Clients

Abbotsford Airshow
Abbotsford Agrifair
Art Teachers of British Columbia
Pacific National Exhibition (PNE)
Alma Mater Society, University of B.C.
General Motors
Brooke Radiology Associates
Celebration of Light Fireworks
Chamber of Shipping of British Columbia
Coast Spas
First Night
Cache Creek Graffiti Days
Harry Jerome Track & Field Classic
HBC Run for the Cure - 2006-2007
Honda Canada
Household Finance Corporation (HFC)
Kelowna Regatta
Maximizer Software
Melbourne Music Festival (Australia)
Overseas Container Forwarding
Pacific National Exhibition (PNE)
Pocahontas Foods U.S.A.
Prince George Exhibition (PGX)
Ritchie Smith Feeds
St. Paul's Hospital
Salmon Arm Fall Fair
South Pointe Academy
TD Canada Trust
Timberline Software
Urban Garage Drive for Alzheimer's
Vancouver Post-to-Post 10K Run - 2000-2005
Vancouver Elementary Principals and Vice-Principals Association
Vancouver Sun Run - 1994-2008
Vancouver Wharves
Vancouver Whitecaps
Video One
Young Presidents Organization - New York City, Banff, Vancouver

Venues

Arbutus Club - Vancouver, B.C.
B.C. Place Stadium
Bayshore Resort - Vancouver, B.C.
Canada Day at Canada Place
Chilliwack Senior Secondary School
Cecil Green House, University of B.C.
Fairmont Hotel Vancouver Airport - Richmond, B.C.
Fairmont Whistler Resort - Whistler, B.C.
Fairmont Hotel Vancouver
Firefighters' Club - Burnaby, B.C.
Four Seasons Hotels - Vancouver and Whistler
General Motors Place
Grouse Mountain - North Vancouver, B.C.
Heritage Valley - Abbotsford, B.C.
Hollyburn Country Club - West Vancouver, B.C.
Jericho Tennis Club - Vancouver, B.C.
Joe Fortes Seafood & Chop House - Vancouver, B.C.
Mountain Brew House - Whistler, B.C.
Newlands Golf & Country Club - Langley, B.C.
Pan Pacific Hotel - Vancouver, B.C.
Pit Pub, University of British Columbia
Queen Elizabeth Theatre - Vancouver, B.C.
Renaissance Hotel - Vancouver, B.C.
The Raven - North Vancouver, B.C.
Royal Vancouver Yacht Club
Sherry-Netherland Hotel - New York City
Shaughnessy Golf & Country Club
Sutton Place Hotel
Swangard Stadium - Burnaby, B.C.
Sheraton Wall Centre Hotel - Vancouver, B.C.
Waterfront Hotel - Vancouver, B.C.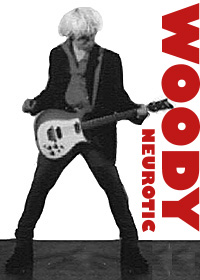 Woody Neurotic plays guitar and harmonica, as well as singing. The debate still rages over his World Cup downhill skiing championship, which he won while sliding on his bum.

Look for photos and profiles of the other members of The Neurotics throughout this Web site!