NEW! We now have posters you can download at our audio, video, and posters page. Blimey!
In 1972, a signed photo of Woody Neurotic fetched £8,000 on auction at Sotheby's, surpassing the record amount paid for Domingo "Sam the Sam" Samudio's original napkin lyrics for "Wooly Bully."
There was a time when photos of The Neurotics were prized possessions -- teenage girls worldwide pressed them carefully between the pages of their diaries,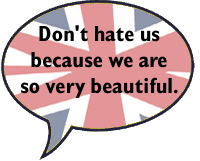 cherishing them like rare jewels excavated from the depths of an ancient Egyptian tomb, then polished to a wondrous sheen by the finest stonecutters of Amsterdam.
Not anymore, though.
The latest photos
Posted 20 April 2009:

We have lots of pictures on the photo sharing site Flickr from 2008 and 2009 (and earlier). Here are a couple of highlights:

From 2009, this is a picture from the 2009 Vancouver Sun Run, where we played for more than 60,000 people during our 16th annual appearance at the event. Bumpy Neurotic (in blue) rocks out with Stoney Neurotic (in gold), the first-ever female member of the group!



From 2008, check out our sexy, sexy guitarists (Dirty, Bumpy, and Dilly Neurotic) in the sunshine at the Arbutus Club in Vancouver.


---
Older pictures
Posted 4 February 2008:

Check out what a sexy bunch we are when we feature six Neurotics onstage instead of just four:
Posted 30 December 2006:

Check out our final show of 2006, with all five current Neurotics in attendance, from December 2006 at the Pan Pacific Hotel in Vancouver:
Posted 28 April 2006:

Another Sun Run come and gone, and 'ere we are:

That's Bumpy on the left (he took the pic), Swingy's mouth and cheek just behind Bumpy's left ear hidden beyond the hair, Sticky with the teeth, and Dilly looking all suavé. A glamorous bunch we are, no?
Posted 16 October 2005: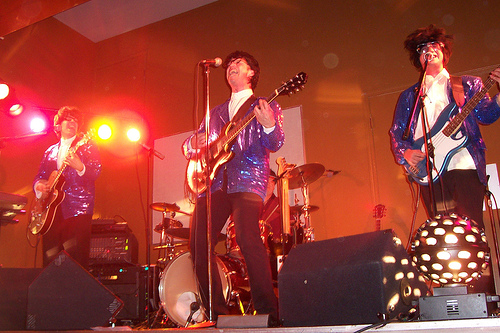 We rock so bloody hard, baby! That's Dirty, Dilly, and Bumpy, from left. See the close-up!

From left, Bumpy, Swingy, Sticky, and Dilly Neurotic on a rainy Sun Run 2005 morning in April.
Posted 4 April 2005: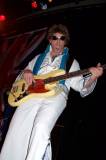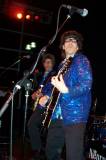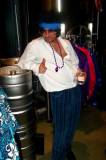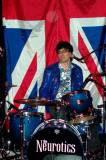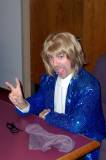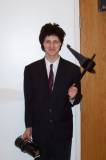 At last! A new photo gallery, featuring Bumpy's new hairstyle, HourGlass, Slappy Neurotic, and even our roadie Flaky!
Posted 22 August 2004: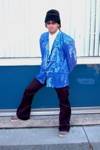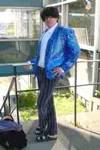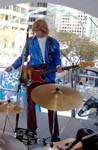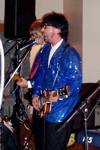 Check it out! Photos from throughout 2003 and 2004 with more Neurotics than you can shake a stick at!
Posted 13 July 2003: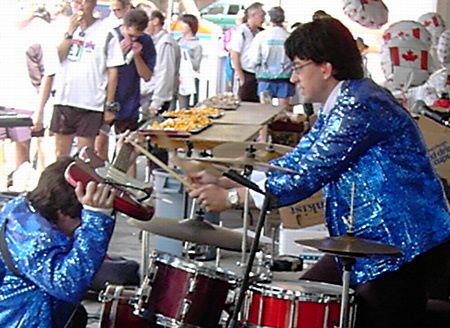 Witness the fabutainment of Sticky Neurotic playing a drum solo on the guitar, as well as Lumpy Neurotic's final performance this year with The Neurotics, on Canada Day 2003!
Posted 17 April and 12 June 2003:




In April, the Vancouver Sun Run 2003 brought nearly 50,000 Neurotics fans together on a downtown street.

There was also running.






June 2003's annual Graffiti Days saw hundreds of classic cars, as well as a wacky lineup of Neurotics, storm Cache Creek, B.C.
Posted 6 September 2002: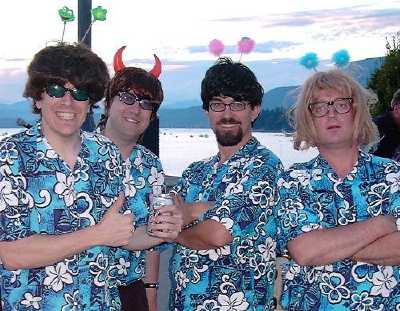 The Neurotics spent August 2002 in style, playing five times at the beach in the sun. See how it looked in our gallery of beach pictures. You'll be jealous.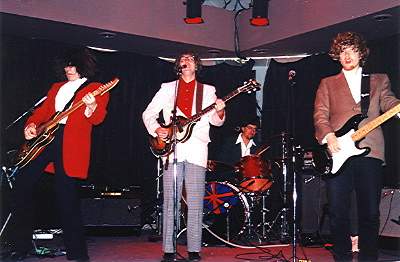 And just for good measure, we dug into the Sticky Neurotic Closet of Horrors for this 1994 snapshot from Sidney, B.C. on Vancouver Island. From left are Dirty, Doink, Sticky, and former guitarist Stubby Neurotic.
Posted 15 July 2002:
The Neurotics went truly Old School for an event at the Hotel Vancouver. Check out the ascots, baby. (Any resemblance to other artists is pure coincidence, of course.)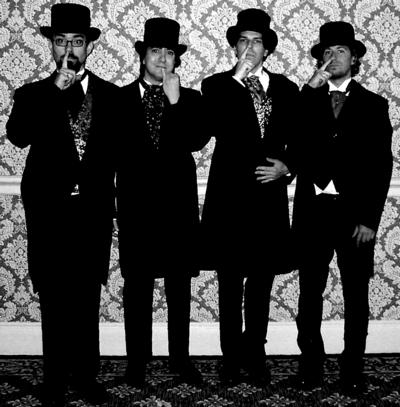 From left, we have Sticky Neurotic, Doink Neurotic, Dirty Neurotic, and Woody Neurotic. Lumpy Neurotic (not shown) wanted nothing to do with the exercise, so he skipped town.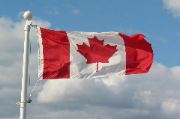 4 July and 22 April 2002: Dozens of photos show that we sure rocked Canada Day 2002 and the Vancouver Sun Run 2002, for crowds as large as 45,000 screaming fans!
---
Posted 5 July 2001:
Canada Day photos from the Post to Post
10K Run and Walk are all courtesy of
Gerard & Rimka Laman of Vancouver.
Thanks, pets!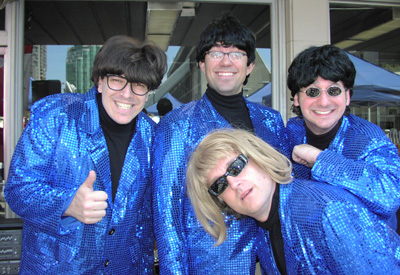 For Canada Day 2001, Bumpy Neurotic (right) filled in for the absent Woody Neurotic (not shown), who was at his annual retreat studying Transcendental Flatulation (TF) at an ashram in the wilds of rural St. John's Wood, London. From left are Dirty and Sticky Neurotic, with Lumpy front and centre.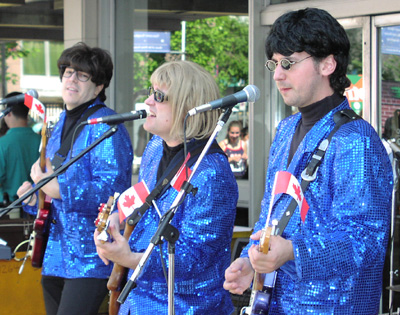 Don't ask what Dirty (left) and Bumpy (right) are thinking. Just listen to Lumpy's singing. That's right. Nothing of interest here. Move along.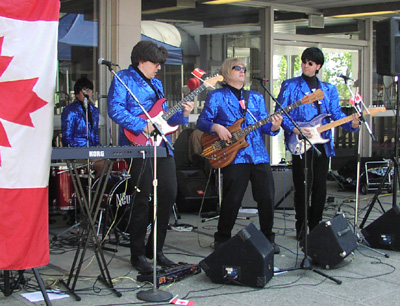 Lumpy (front centre, with brown bass guitar) gets carried away by the groove. Dirty (left, red guitar) takes an über-wanking solo, while Bumpy (right, blue guitar) does his "Mr. Roboto"/C-3PO impression. Sticky (background, on drums) has his face obscured by a microphone. Ouch!
---
Posted 5 June 2001:

The Neurotics at Swangard Stadium in Burnaby, British Columbia. Left to right in blue jackets are Dirty, Lumpy, Sticky, and Woody Neurotic (with hot chocolate). In the background is Swanky the Soundman.

Lumpy Neurotic (left) and Woody Neurotic (right). Both stylish as always.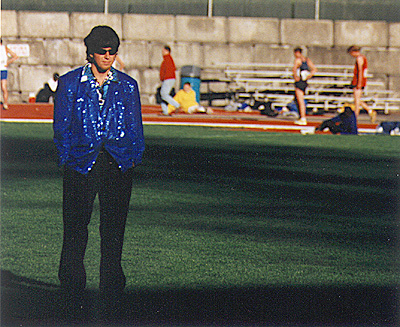 Woody Neurotic gleaming in the afternoon sun, like water on a distant lake under whose surface lurks a legendary serpent-like creature said to devour villagers at the Winter Solstice.

Lumpy Neurotic (left) reacts to one of Dirty's typically filthy stories. (Note dramatic blur effect on speedy runner in background of first frame.)
---
Posted 23 May 2001: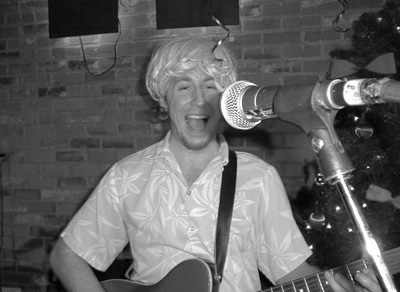 Woody Neurotic in his days as a blond, just before letting out one of his trademark onstage sneezes.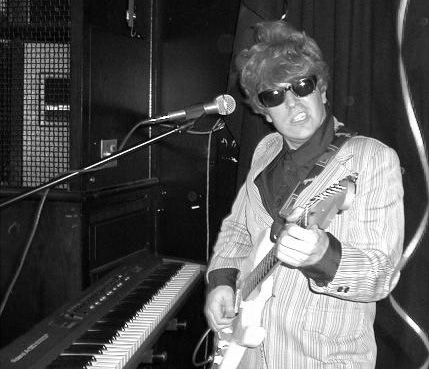 Dirty Neurotic displays his large organ (left).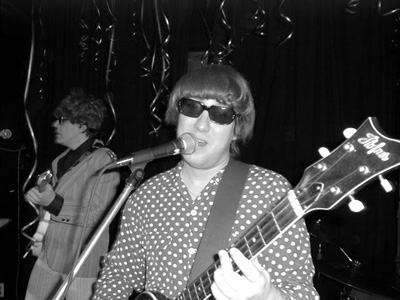 Bass guitarist Doink Neurotic (right) hides the effects of the previous night's Spam bender behind dark sunglasses. Dirty (left, in background) keeps an eagle eye on objects thrown from the audience.
Many more photos to come!