Can't stand it any longer? Must you have The Neurotics or HourGlass play your wedding, party, dance, nightclub, meeting, bar-mitzvah, barbecue, sporting event, or study session?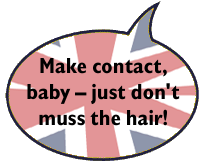 We're ready for you, baby. Anytime, anyplace. Well, pretty much.
Give us a ring!
Phone Sebastien at (604) 719-5464

E-mail
PLEASE NOTE: If you heard about us from a booking agent or event planner, please contact them if you are interested in booking us.
---
The Neurotics and HourGlass are part of Razor Entertainment in Vancouver, B.C., Canada. Band availability is limited and books up well in advance, so please get in touch as early as you can.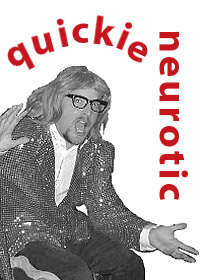 Quickie Neurotic rocks you like a hurricane, bangs
your head, takes you to the limit, and hits you, baby,
one more time. He also plays guitar—though he prefers
to say gee-tar and then make weedly-weedly fretboard
motions with his fingers while waggling his tongue.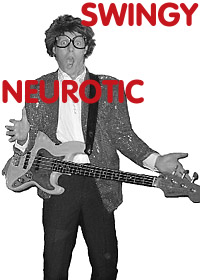 Swingy Neurotic is the most legendary of The Neurotics, not because of his monumental bass playing (of both the guitar and the fish), but because he has not washed his hair in fifteen years.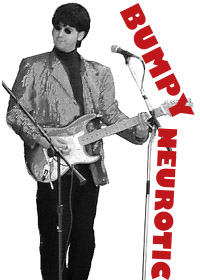 Bumpy Neurotic occasionally substitutes on guitar when Woody Neurotic embarks on his regular mushroom-fueled "spiritual journeys." Bumpy's turn-offs are Kenny G. and day-old guacamole. His secret turn-ons are '80s New Wave and the Treble control on his amplifier.
Look for photos and profiles of the other members of The Neurotics throughout this Web site!